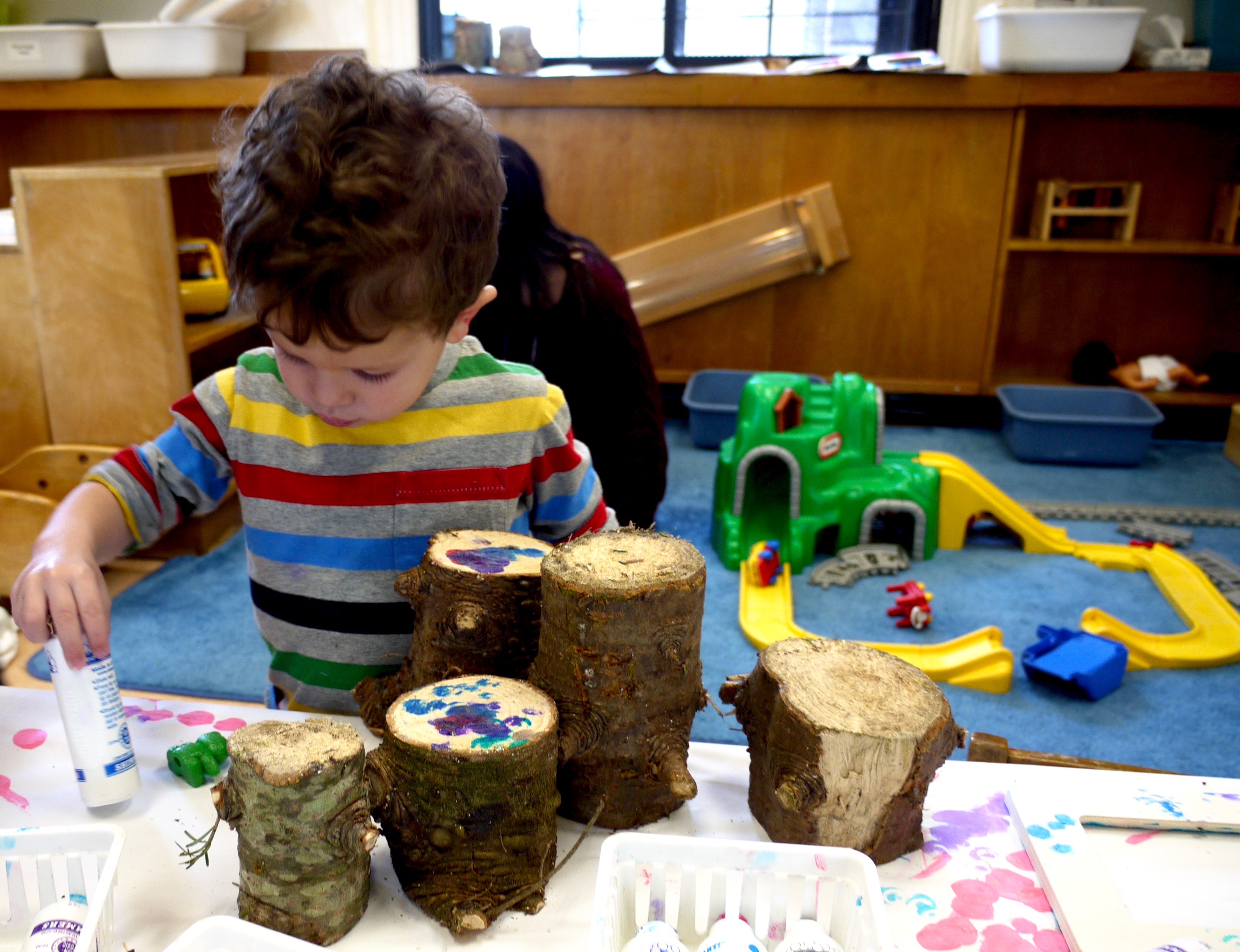 Our research aims to understand the foundations of healthy social and emotional development and the critical roles of parents on their children's development. As part of enrollment at the Toddler Center, parents agree to participate with their toddlers in research. Studies vary from year to year with an aim to better understand early development and parenting, in typical and atypical circumstances. Barnard and Columbia students gain valuable hands-on experience as research assistants and many continue on to graduate studies in psychology or related sciences. 
Toddlerhood is a critical period for emotional and social development and forms the bedrock of many subsequent skills that depend on this foundation.  And yet, being one of the last frontiers of science, there is still much to be understood about this highly unique developmental period in children's lives. Several areas of research are ongoing at the center. 
Toddler Play
Play is essential to how toddlers make sense of the world around them, learn to negotiate and interact with peers, to communicate their needs and experiences, and to process emotions. Understanding how they use play to make sense of their world is the aim of these studies. The Toddler Play study examines emotions and toddler play by looking at a play continuum from toddlers' everyday play all the way to how toddlers use play to process stressful (i.e., ER visits) or traumatic experiences (i.e., natural or manmade disasters).  Studies are based on extensive observations of toddlers playing, and analysis of videotapes of naturalistic play. 
Select presentation and publications (Student co-authors in bold):
Klein, T.P., Dunn, H., Routhier, E.& Cabrera, N. The Leaving Game: Processing Separation Through Play. (manuscript in preparation).

Klein, T.P. Seeing the child's world: The essence of Anji True Play that can be transported to worldwide locations. Anji, China. May, 2019.

Dunn, H., Lovich, D., Mulholland, R., Klein, T. 21st Century Dilemmas: What are parents saying about children's play, at Eastern Psychological Assoc., Phila., PA: March, 2018.

Dunn, H., Routhier, E., & Klein, T.P. The leaving game: Separation and emotional processing in toddlers' play. Zero to Three Annual Conference, San Diego, CA: December, 2017.

Klein, T.P. & Golinkoff, R. M. The power of play, stacking the building blocks of learning. National Smart Start Conference, Greensboro, NC. Featured Session, May, 2016

Klein, T. P. Play is fundamental to the well being of every child everywhere. Global Health & Innovation Conference, Yale University, New Haven, CT. April, 2016

Hanley, P., Koutruba, N. & Klein, T. Young Children's Processing and Communicating of Emotions and Experiences through Play. Presentation at the annual conference of The Association of the Study of Play, Rochester, NY. April, 2014

Klein, T.P., DeVoe, E., & Aratani, Y. Young children's play and responses to witnessing the WTC attacks: Implications for children after the tsunami. Morioka University, Morioka, Japan. Jan., 2013.

Evans, M., Resiak, N. & Klein, T.P. Creating Safety through Play: Communicating about Life Experiences, from Typical to Traumatic Events.  Global Summit on Childhood, Washington, DC., March, 2012.

Klein, T.P., Grazi, S. Figuring out the World. Community Playthings, 2011.

Klein, T. & Grazi, S. Young Children's Play: Processing and Communicating about Emotions and Life Experiences. International Play Association Conference, Cardiff, Wales, July, 2011.

Klein, T., Evans, M., & Grazi, S. Creating Safety Through Play: Young Children's Communication about Life's Experiences, from Typical to Traumatic. Zero to Three National Training Institute. Phoenix, AZ, December, 2010.
The Importance of Parents in Toddlers' Emotional Learning 
This area of research is conducted in collaboration with Dr. Nim Tottenham and the Developmental Affective Neuroscience Lab at Columbia University. The role of parents during these early years is critical. Through a series of studies, we examine how toddlers learn about emotions, how to manage them and how these skills are constructed in collaboration between the toddler and the important people that take care of them (e.g., parents, teachers, caregivers). 
Callaghan, B., Choy, T., O'Sullivan, K., Routhier, E., Koutruba, N., Goode, T., Klein, T., Tottenham, N., Threat learning via emotional eavesdropping in the toddler period. Poster presentation. Washington, DC: International Society of Developmental Psychobiology, Nov., 2017.

Callaghan, B., Choy, T., O'Sullivan, K., Routhier, E., Koutruba, N., Goode, T., Klein, T.,Tottenham, N. (under review) Emotional eavesdropping in Toddlerhood Results in Discriminative and Enduring Learning
Parenting Young Children Study (Work-Family Challenges )
Parenting Young Children Study is a qualitative study of parenting in the early years. Over two hundred parents (mothers and fathers) were interviewed about their experiences of becoming parents, being parents, the challenges and pleasures of parenting young children, and work and family dilemma and issues. In 2020, we will begin interviewing parents on specific areas of work-family, including career decisions and changes made after becoming parents.
Klein, T.P., Evans, M., Wolfson, T. & Leeman, M. Mothers' Reflections on Work and Family: Compromises, Losses and Tradeoffs. Inaugural Meeting of the Work and Family Researchers Network, New York City, June, 2012.

Auriemma, D. & Klein, T. Experiences and Challenges of Women Combining Academic Careers and Motherhood. American Association of University Professors, Wash. DC, June, 2010.

Can Women Have it All? T. Klein Letter to the editor, NY Times, June, 2012.
Nofi, E., Klein, T.P., Abbott, R., & Kellerman, I. Psychological Implications and Challenges of Negotiating Work and Motherhood. American Psychological Association annual conference.  Toronto, Canada, August, 2009.
World Trade Center Study of Young Children 
World Trade Center Study of Young Children was the only NIMH-funded study conducted immediately after 9/11/01 on the effects of the WTC disaster on young children and parents.  Most of the 240 children in this study, ages 1-5, lived or went to school near the WTC at the time and directly witnessed the events.  This study is in collaboration with Dr. Ellen DeVoe of Boston University. In 2020, we will embark on a qualitative follow up study of a subsample of families whose children are now young adults.
Toddler Imitation Study 
Toddler Imitation Study was conducted with a doctoral student in the lab of Prof. Herb Terrace of Columbia.  This study looked at early imitation in toddlers.
Subiaul, F., Lurie, H., Romansky, K., Klein, T., Holmes,D., & Terrace, H. (2007). Cognitive imitation in typically-developing 3- and 4-year olds and individuals with autism. Cognitive Development, 22, 230-243.

Subiaul, F., Lurie, H., Romansky, K., Klein, T., Holmes, D., & Terrace, H. (2007). Cognitive imitation in 2-year old children (Homo Sapiens): A comparison with rhesus monkeys (Macaca mulatta). Animal Cognition, 10, 369-375. http://www.columbia.edu/cu/psychology/primatecognitionlab/References/Subiauletal2007.pdf
Other Publications & Presentations
Pope, A., Klein, T.P., & Bergman, A. (2016) A qualitative study of children's perspectives on their peer relationships in the context of living with a craniofacial anomaly Cleft Palate-Craniofacial Journal, 53(5), 527-538.

Klein, T.P., Pope, A. & Abbott, R. (2014). Social Interactions of School-Aged Children with CFA: Mothers' Perspectives and Advice. Cleft Palate-Craniofacial Journal, 51 (3), 300-307.

Klein, T.P., Pope, A. W., and Tan, E. (2010). Fathers' perspectives on parenting a child with a craniofacial anomaly. Journal of Pediatric Health Care, 24(5), 300-304.

Bennett-Murphy, L. & Klein, T.P., Attachment, Separation, and Loss in the Toddler and Early Childhood Years. International Conference on Child and Adolescent Psychopathology, London, England, July, 2012.