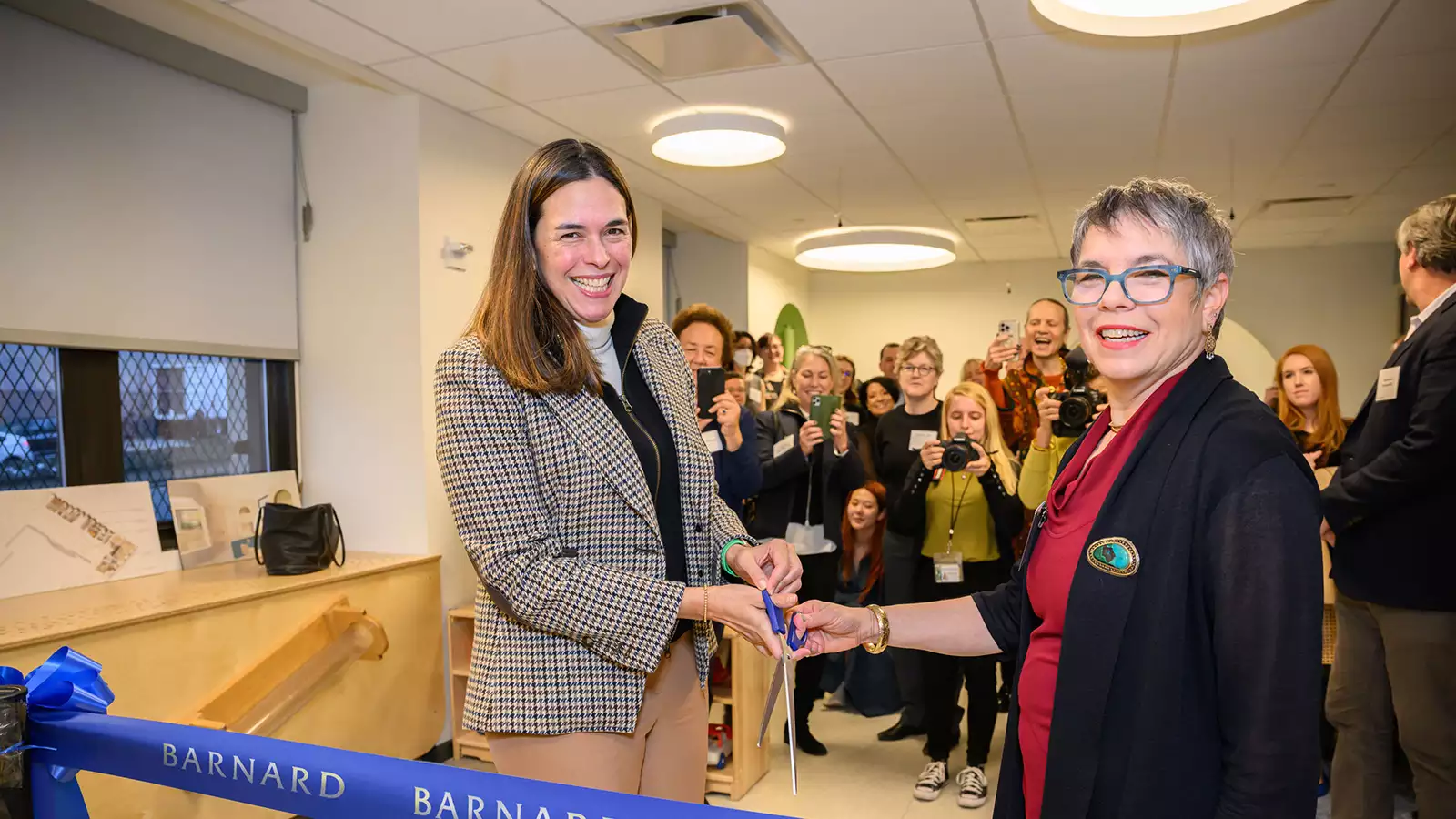 When the Barnard College Toddler Center opened in 1973, founder and Barnard professor of psychology Frances Schachter '50 had no playbook to reference. Researchers rarely studied toddlers. Yet, knowing the importance of this early life stage, Schachter, along with co-founding teacher Patricia Shimm, brainstormed the novel idea to build a space where undergraduates and Barnard researchers could learn about toddlers firsthand.
"Equally important was this idea that Barnard could then provide the surrounding community with this developmentally based, science-informed program for their children," said Tovah Klein, the Center's current longtime director. "That would be a way to bring the community in from beyond our gates and for Barnard to give something to the community. And that continues today."
Drawing the Playbook
What began with seven children has blossomed into a vibrant facility that now hosts 50 toddlers each year.
This March 1, when the new Barnard Center for Toddler Development celebrated its 50th anniversary with a grand opening reception and ribbon-cutting ceremony, it did so with a singular approach to studying early childhood development — within a brand-new, toddler-tested space in Milbank Hall.
"The Toddler Center [through the Department of Psychology] really wrote the playbook for this kind of program," said Klein, who is also an adjunct associate professor of psychology. "There's an emotionally and socially-emotionally based way of having a program for toddlers and also one where the adults can stand back and the toddlers can be led by their own curiosities."
Toddler Tested and Approved
At the anniversary celebration, past and presently participating parents, grandparents, trustees, and surrounding community members encountered a toddler's dream space. The renovations were mostly made possible by the College and the generous financial support of former Toddler Center parents, who include alumnae of the College.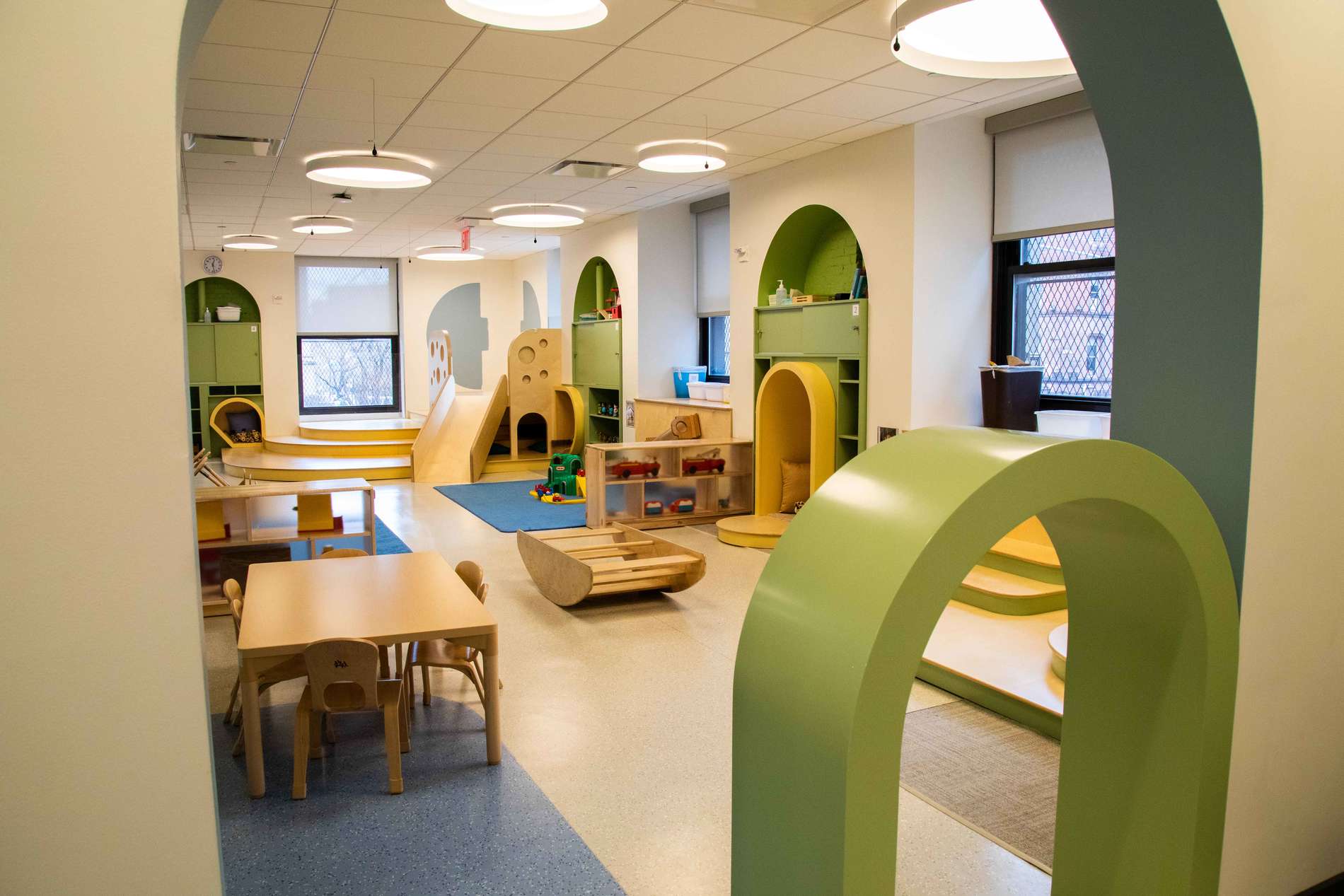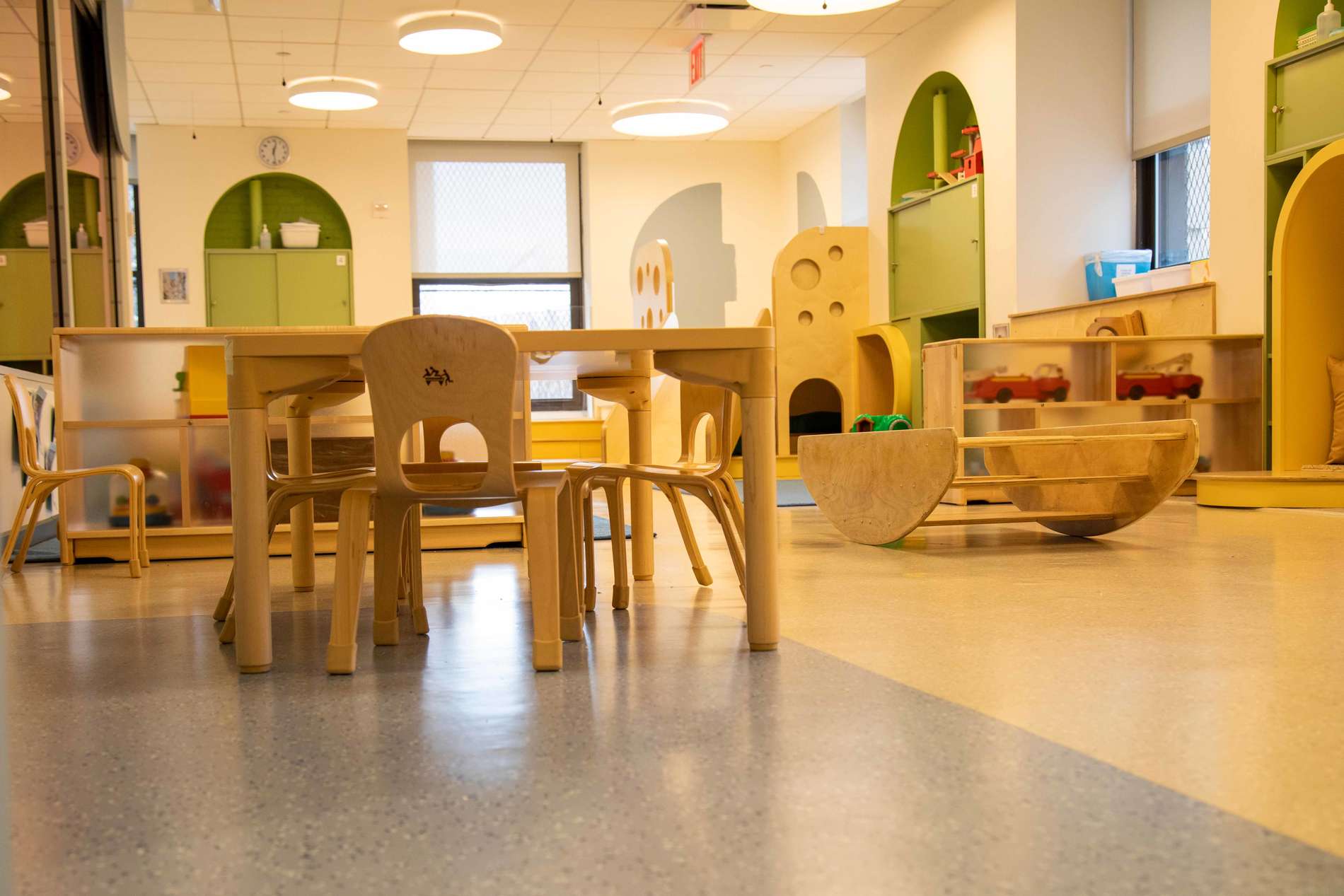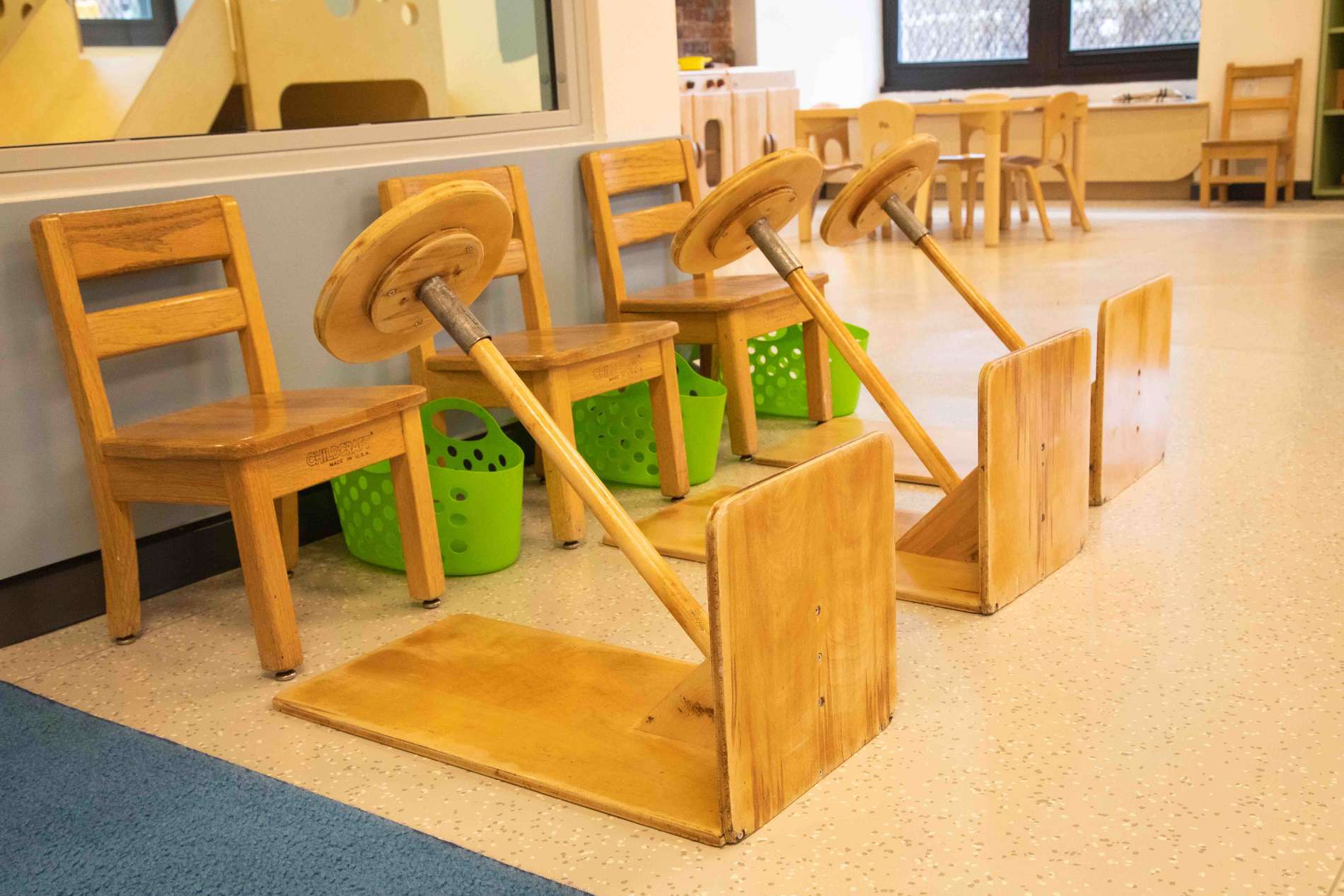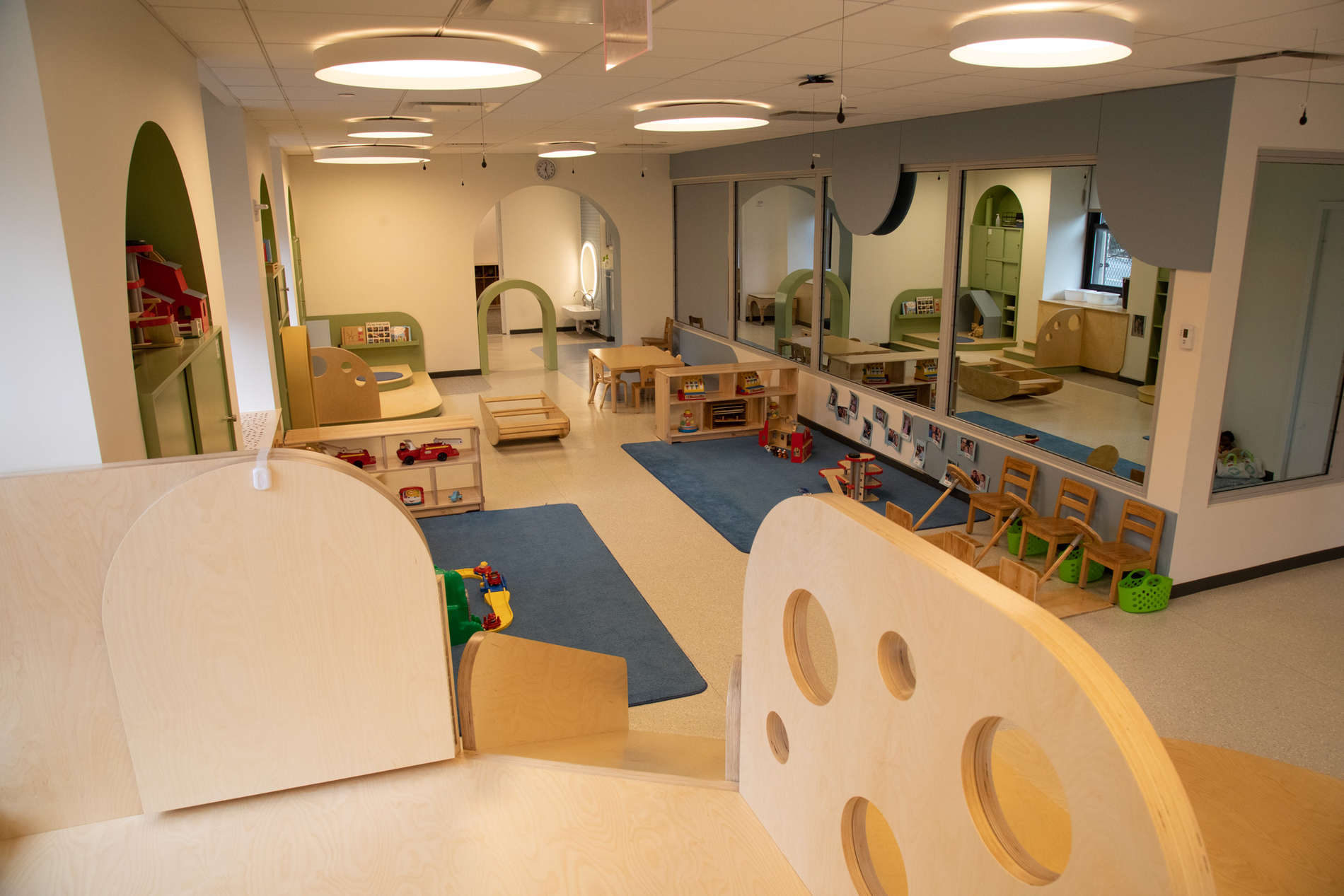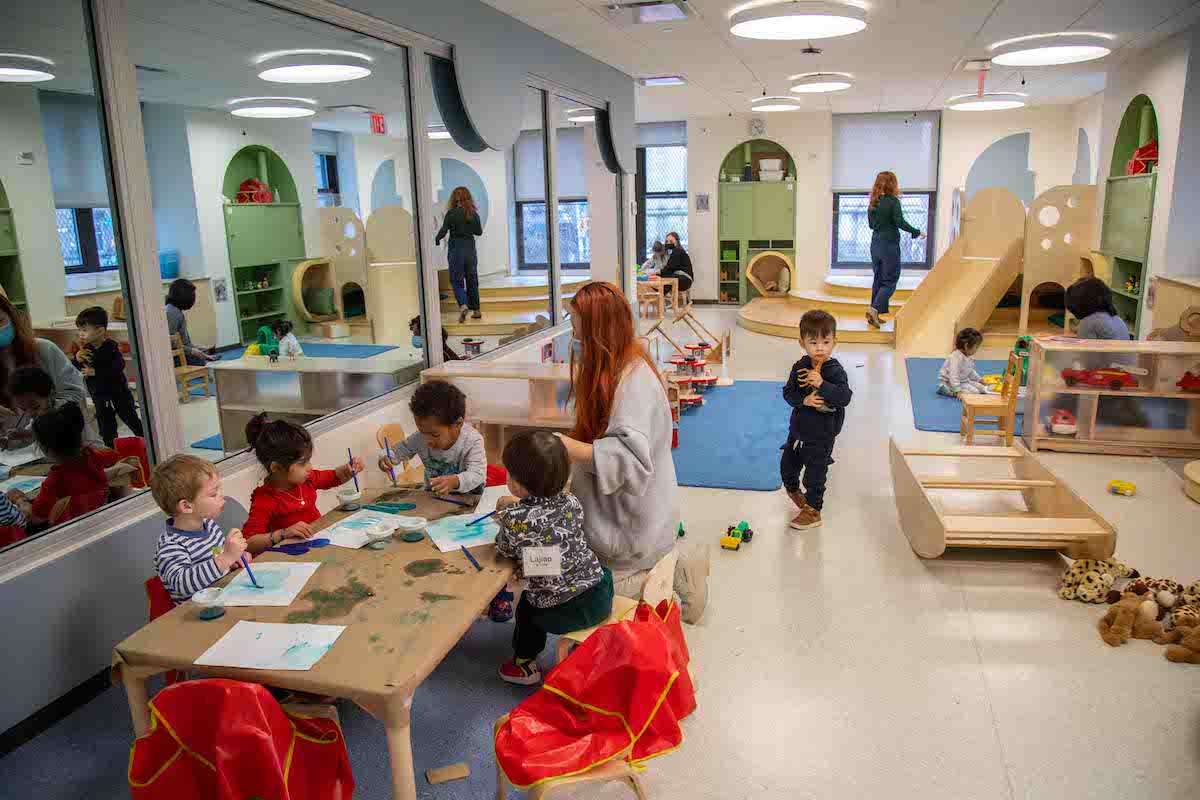 "I'm very excited because it's something that I've envisioned for many years," said Klein. "The toddler view of what this should be, coupled with the academic and research view — that is what this space is." For 1½- to 3½-year-olds, it's a state-of-the-art playroom.
Klein, who is affectionately known as the "Toddler Whisperer," partnered with architects and play consultant Cas Holman to design the Center. Included is a large playroom consisting of a calming, nature-inspired green-and-white color palette, observation areas, classrooms, spaces for parents, and research facilities to enable top-quality data collection, coding, analysis, and neuro-brain research.
 We're also incredibly thankful to everyone who continues to provide the philanthropic support needed to offer students unique educational experiences that are only possible in this kind of a facility and fund groundbreaking research conducted by our early childhood and developmental psychologists.
"In my final semester as Barnard's president, it's immensely satisfying to see another long-term goal come to fruition with the grand opening of our Toddler Center's new home. This year marks half a century that Barnard's Center for Toddler Development has been a leader in studying and fostering young children's growth and development," said President Sian Leah Beilock. 
"Tovah and I are deeply grateful to the generous donors who made the state-of-the-art facility possible — it's such a beautiful, modern space," President Beilock continued.
Already, Klein has observed new developmental changes with this year's toddler cohort, as a result of watching how they — and the student-teachers — react to the space. "What's exciting about the new Center is that I can see the joy of the children as they work through lots of emotions," she said. "Equally, I'm seeing that in our students: their excitement, their enjoyment, their learning. After all, that's what Barnard is here for — our college students."
Making a Mark
The Toddler Center doesn't just help little ones with social and emotional development while offering current students research opportunities in early childhood development — it also creates a circular effect. The Center is unique in that it focuses exclusively on the toddler years and is housed within the Psychology Department. Many research students become alumnae who work in the field of child development and then return to Barnard to enroll their children at the Center.
Nim Tottenham '96, professor of psychology at Columbia and Barnard's 2021 keynote Convocation speaker, was one such student. At Barnard, she studied under Klein at the Toddler Center, where she developed skills in studying human development.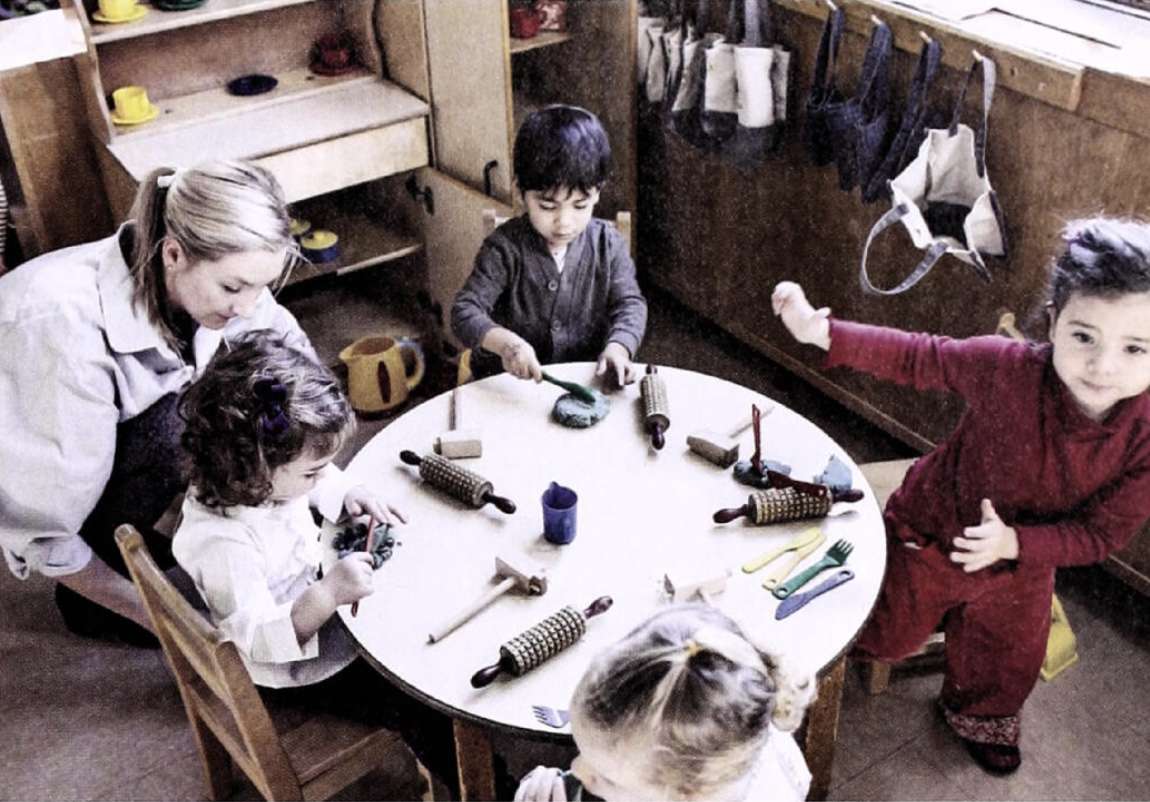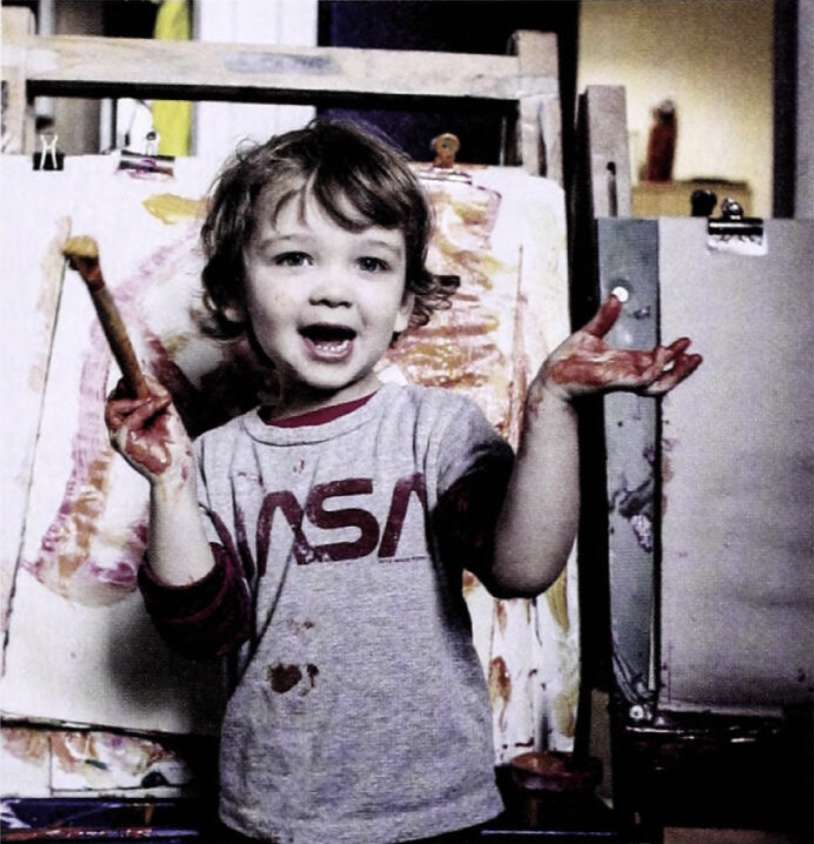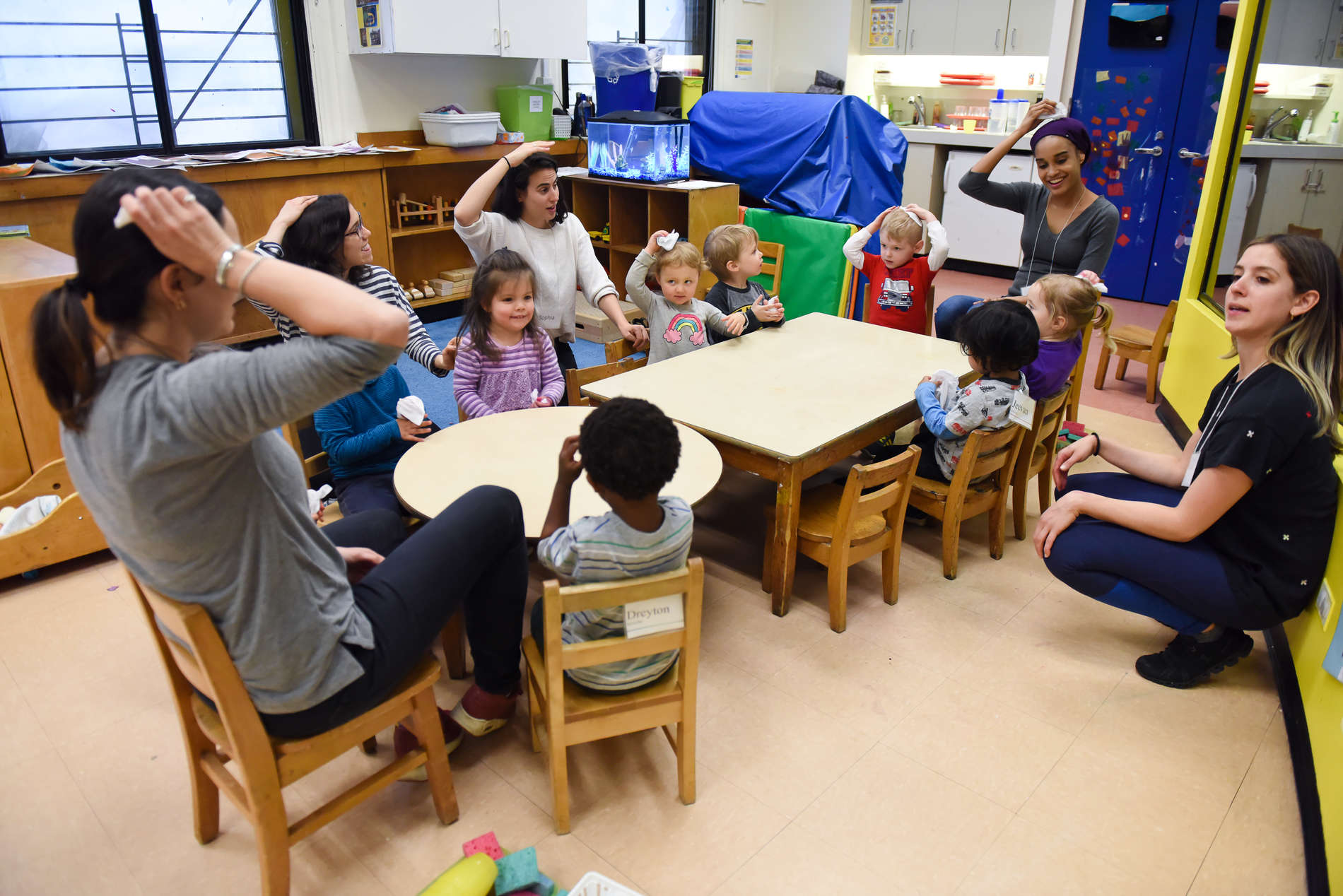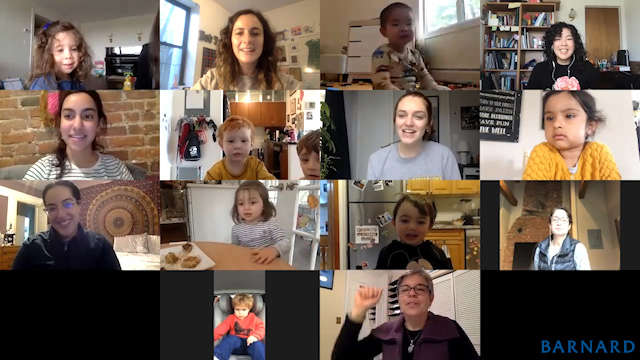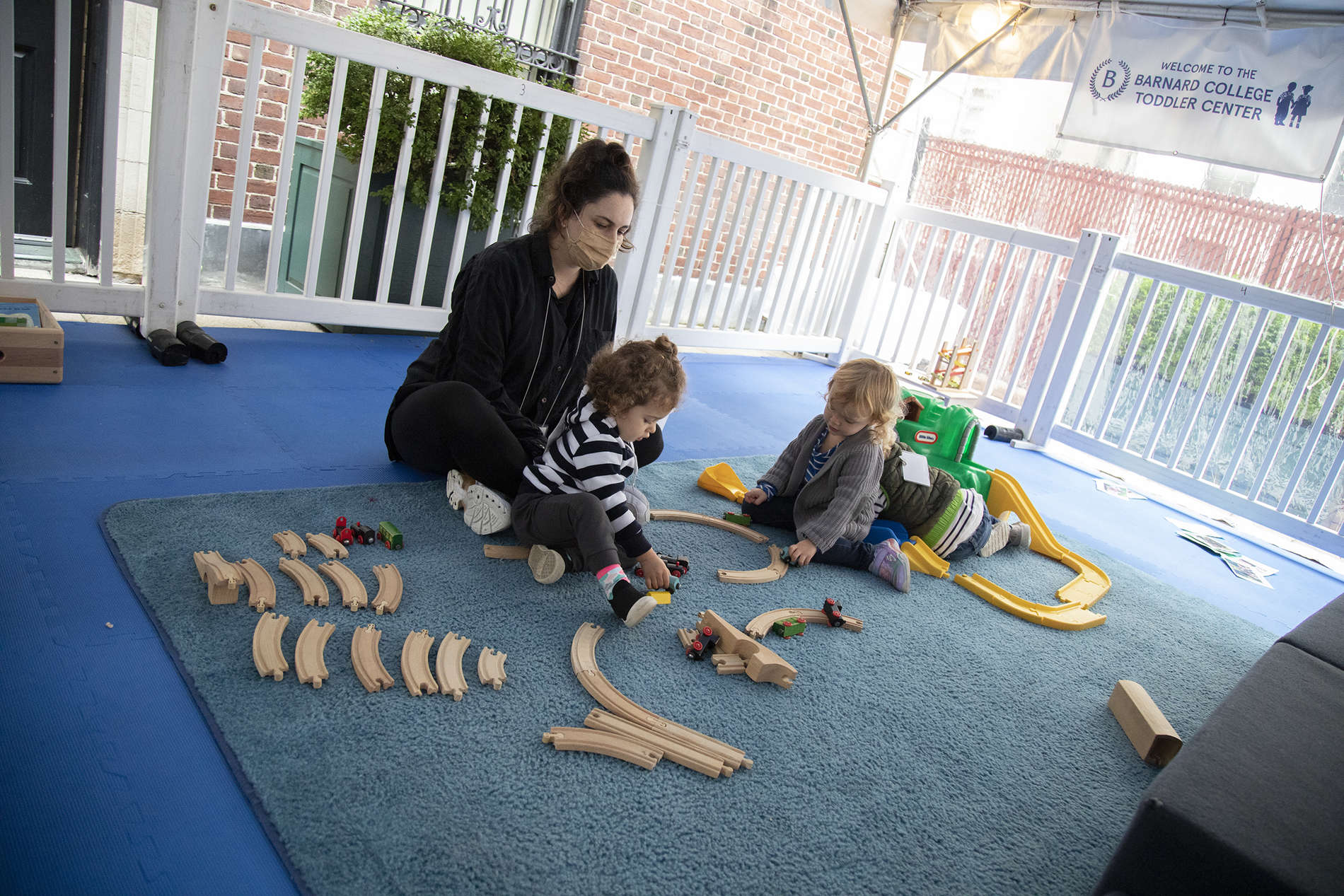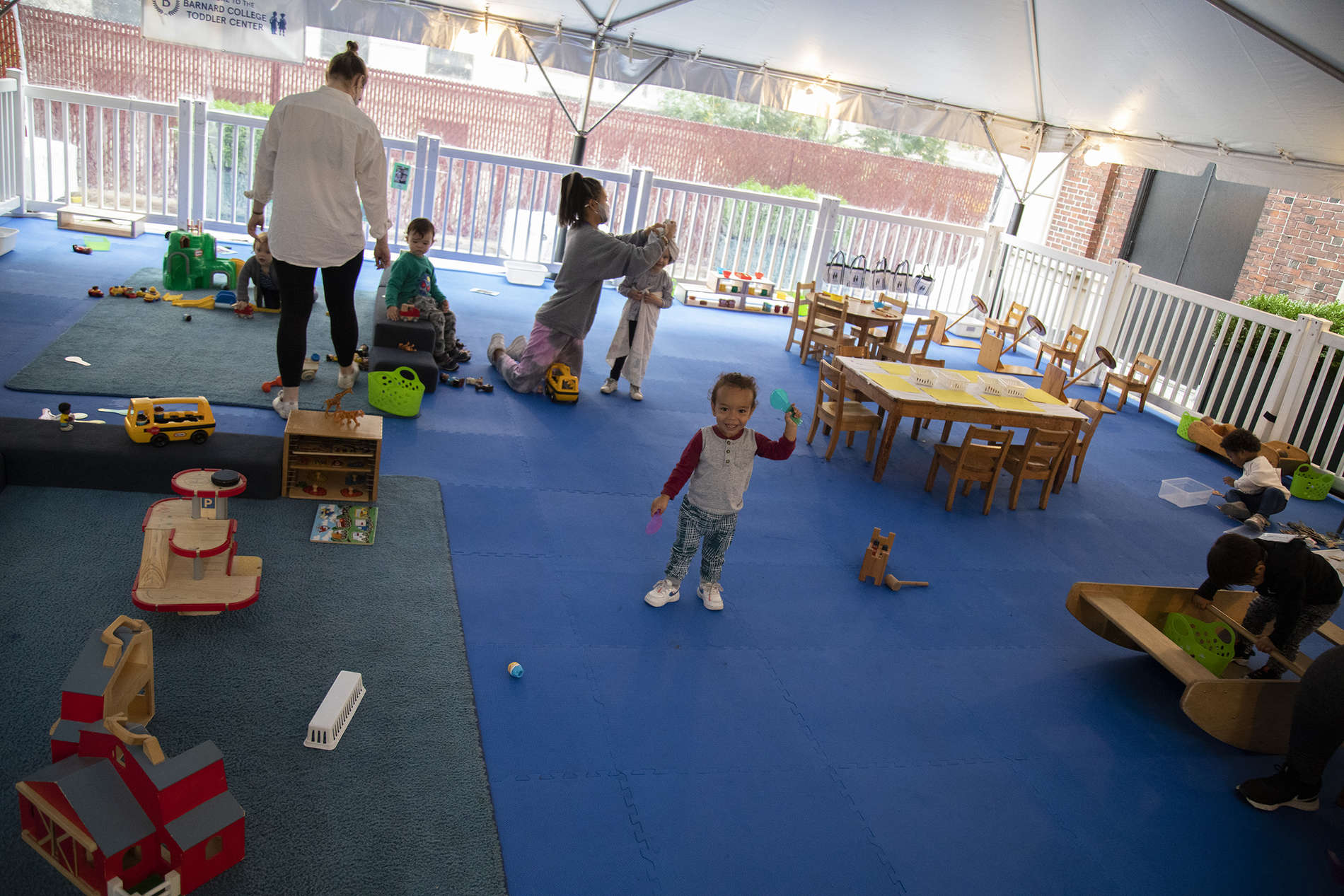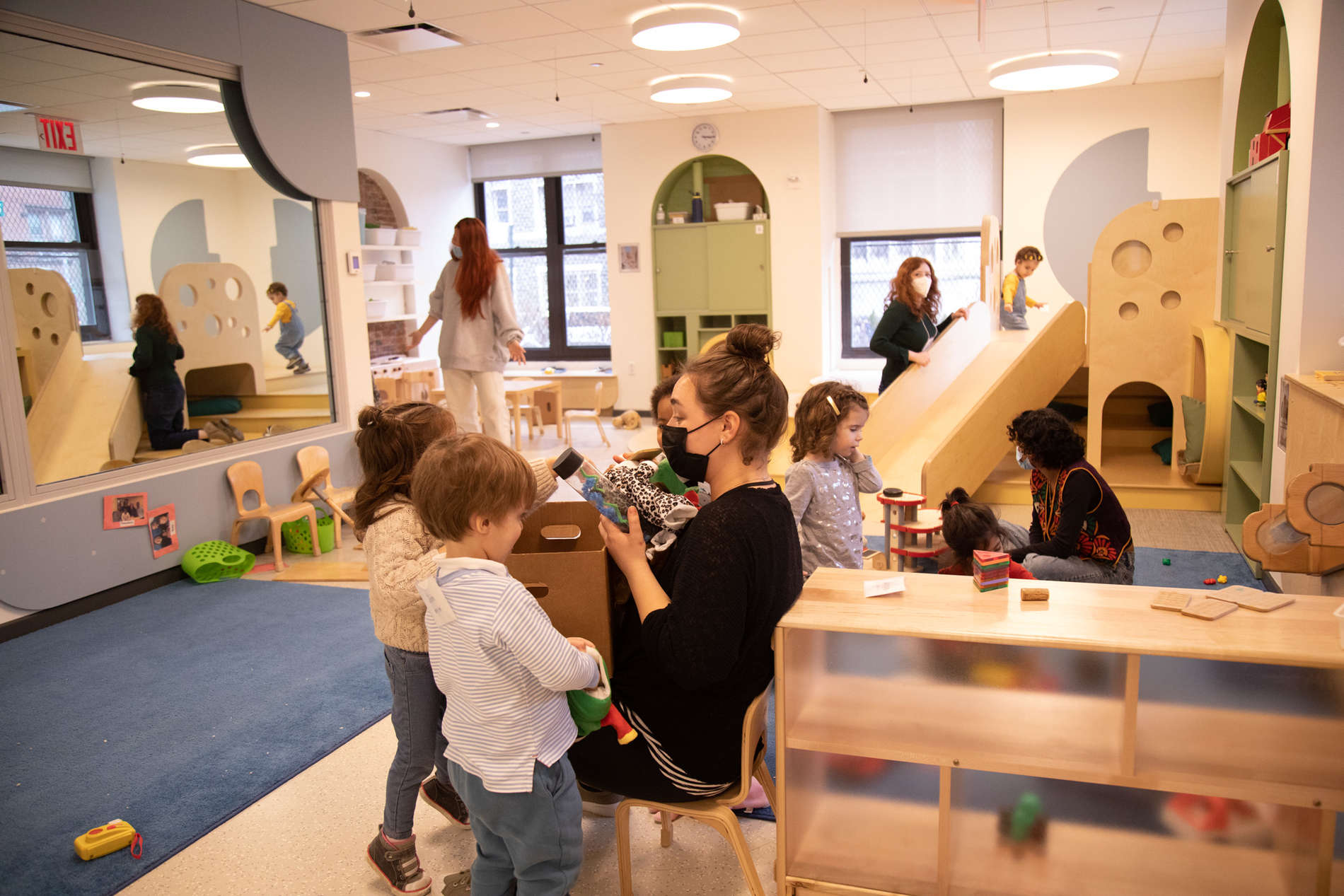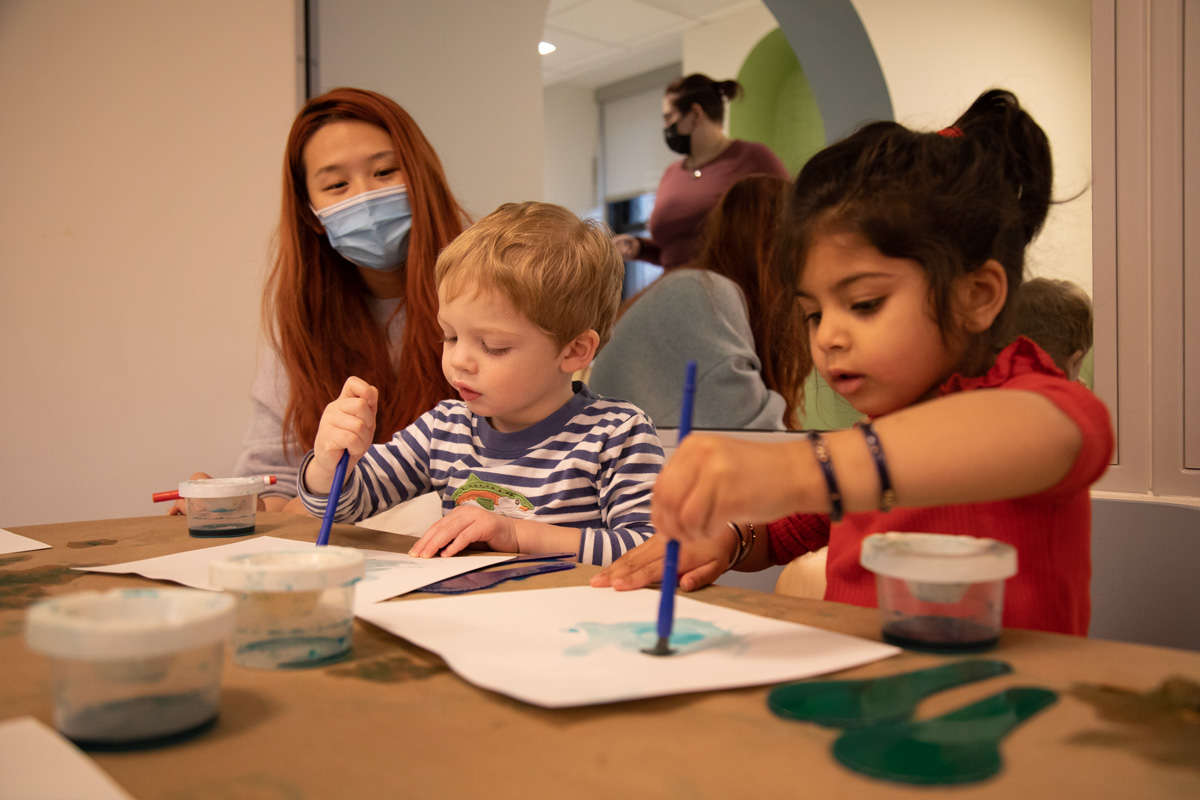 Student teacher Catherine Rawls with toddlers in 2013
Photo credit: Barnard Magazine
Photo credit: Barnard Magazine
The Toddler Center in 2019
Photo credit: Asiya Khaki '09
Toddlers outdoors in 2020
"The pairing of a rigorous research environment, together with a nurturing Center in which toddlers thrive, really sets a foundation of learning upon which future scientists can grow," said Tottenham. Ten years later, she returned to campus to enroll her child in the program. 
"When my daughter was at the right age, there was no question for me that she would apply to the Center," Tottenham recalled. As a developmental neuroscientist at Columbia, she now partners with Klein on the research studies for the Center.
"The Toddler Center has expertise in toddlerhood — a very special time in life when we take our first steps away from our parents. This transition is a big deal and fosters emotional independence," Tottenham explained. "The Toddler Center understands all of this and helps to make this transition successful and joyous for toddlers."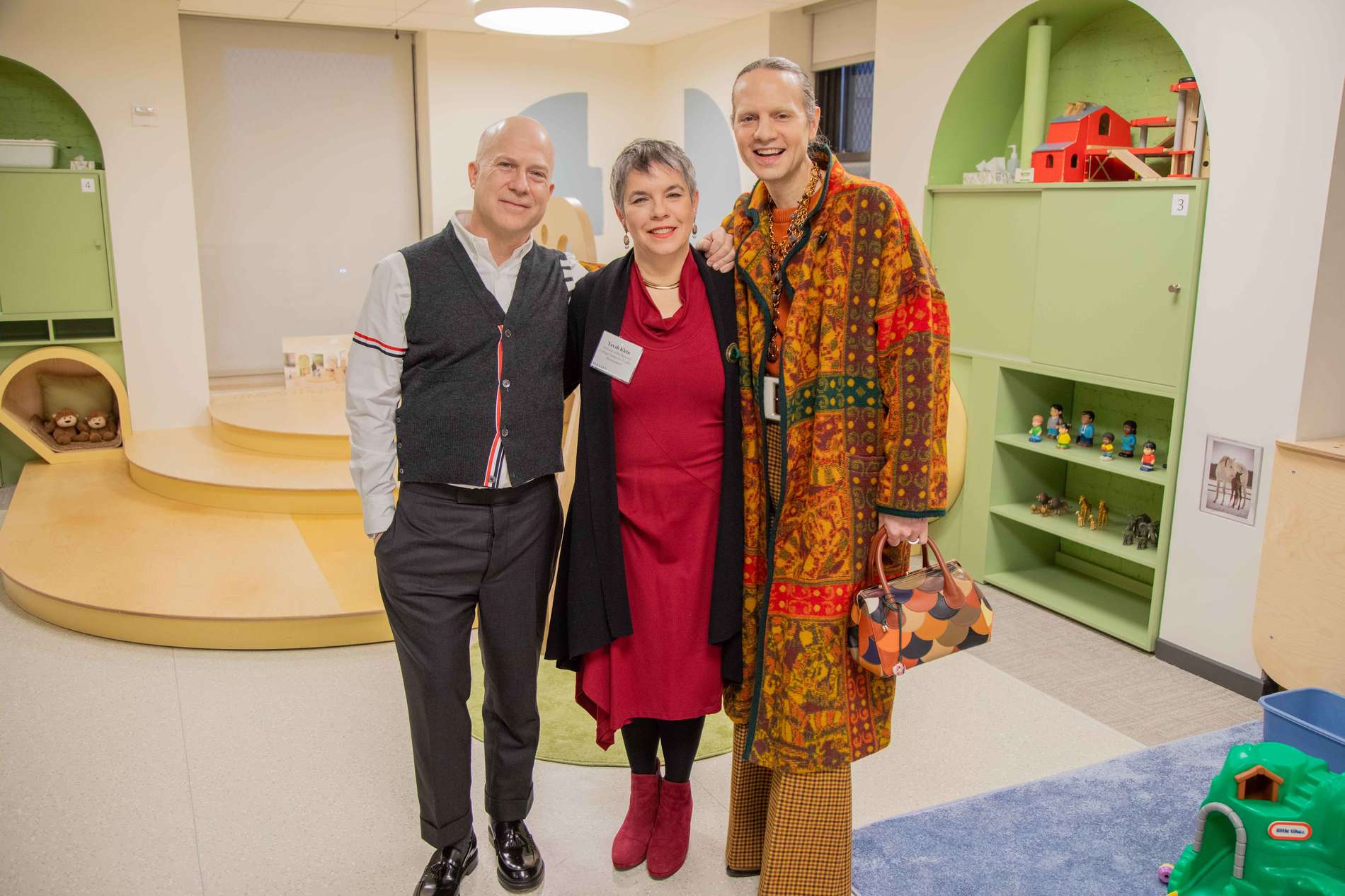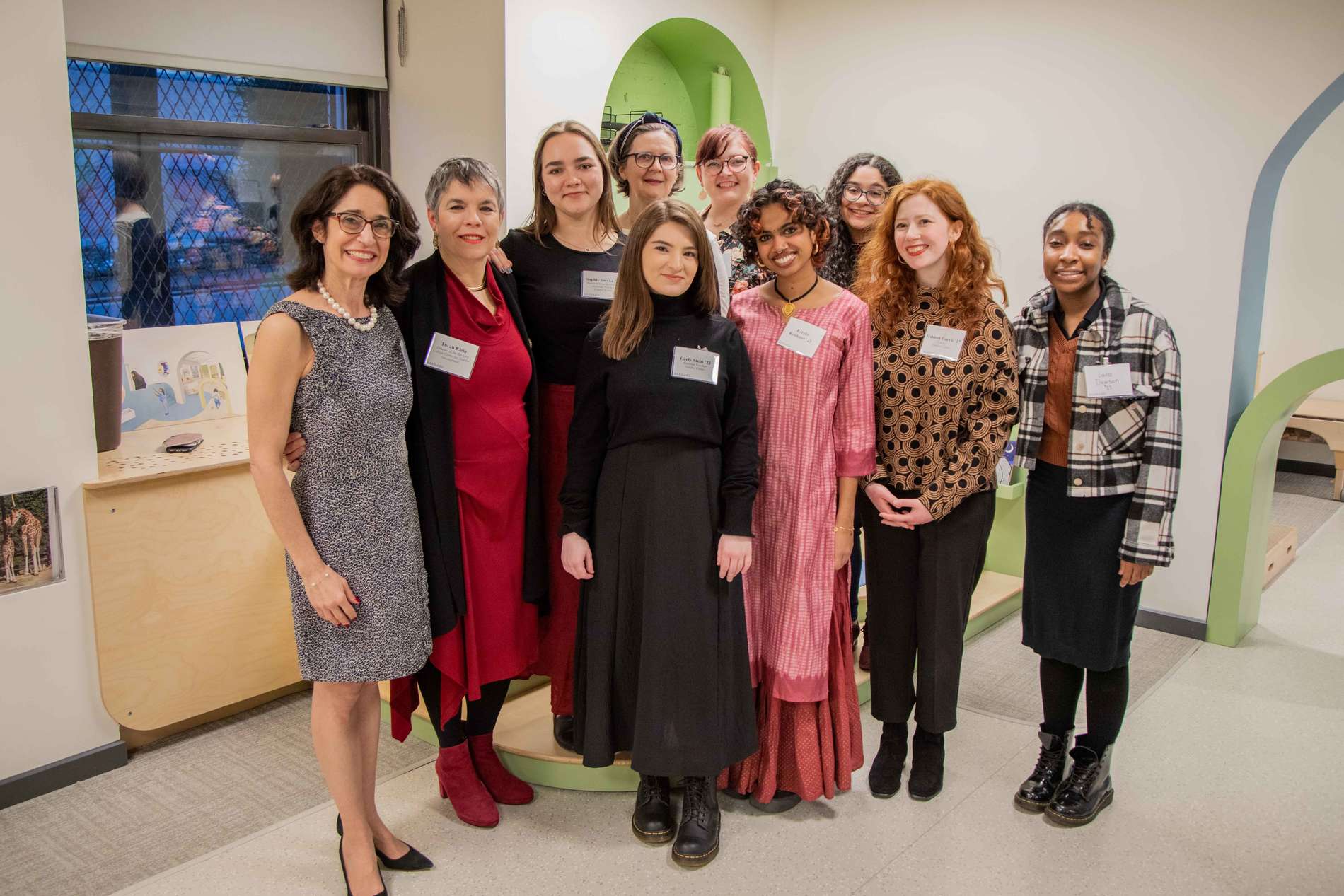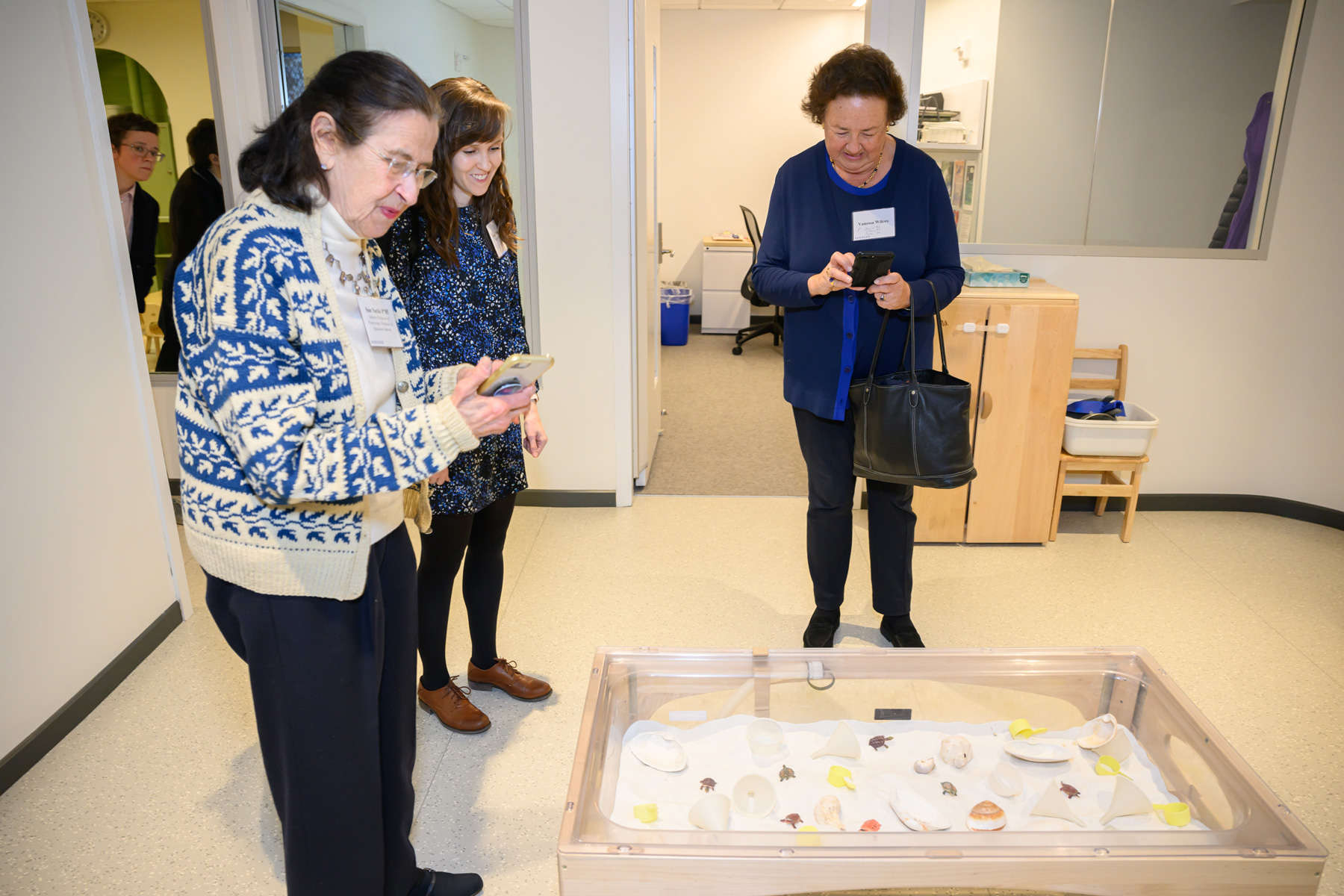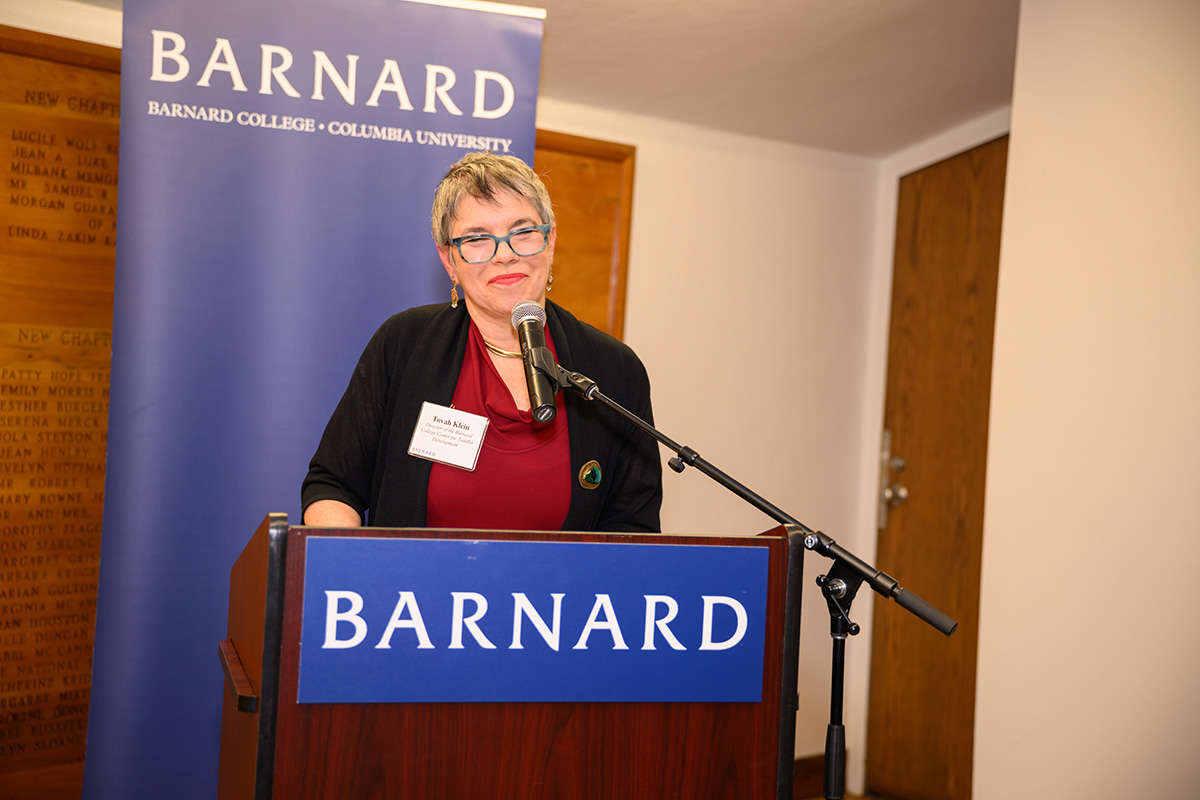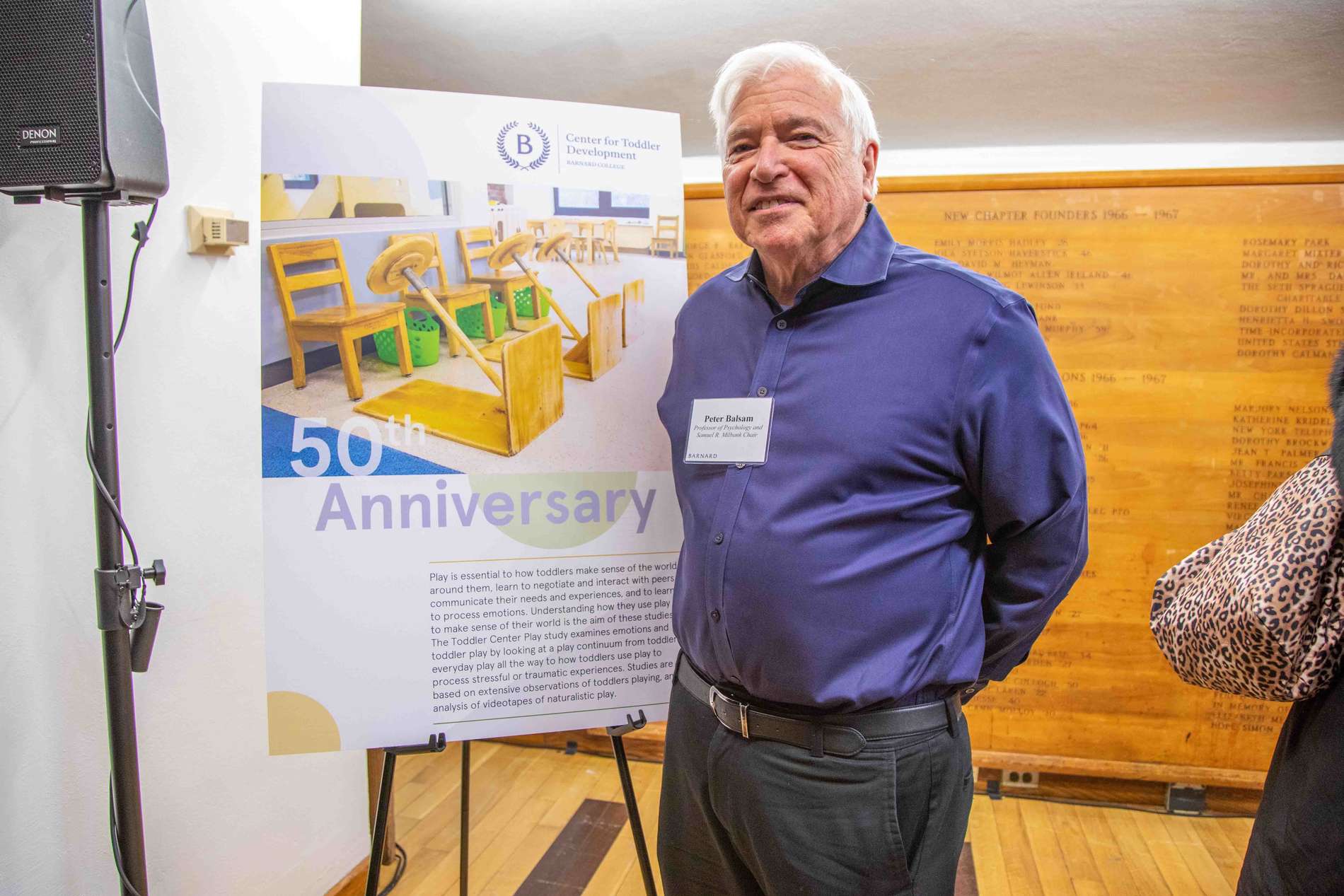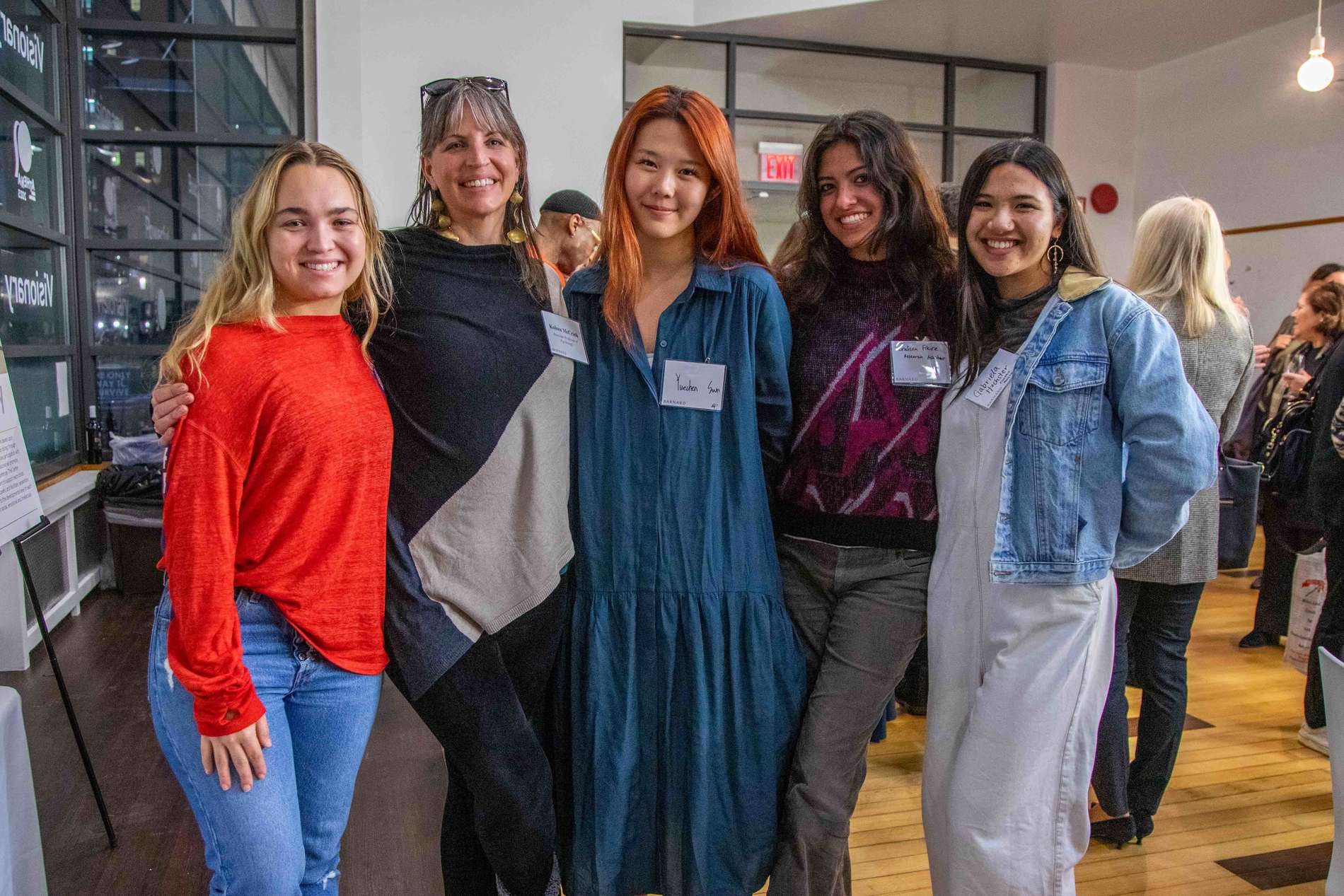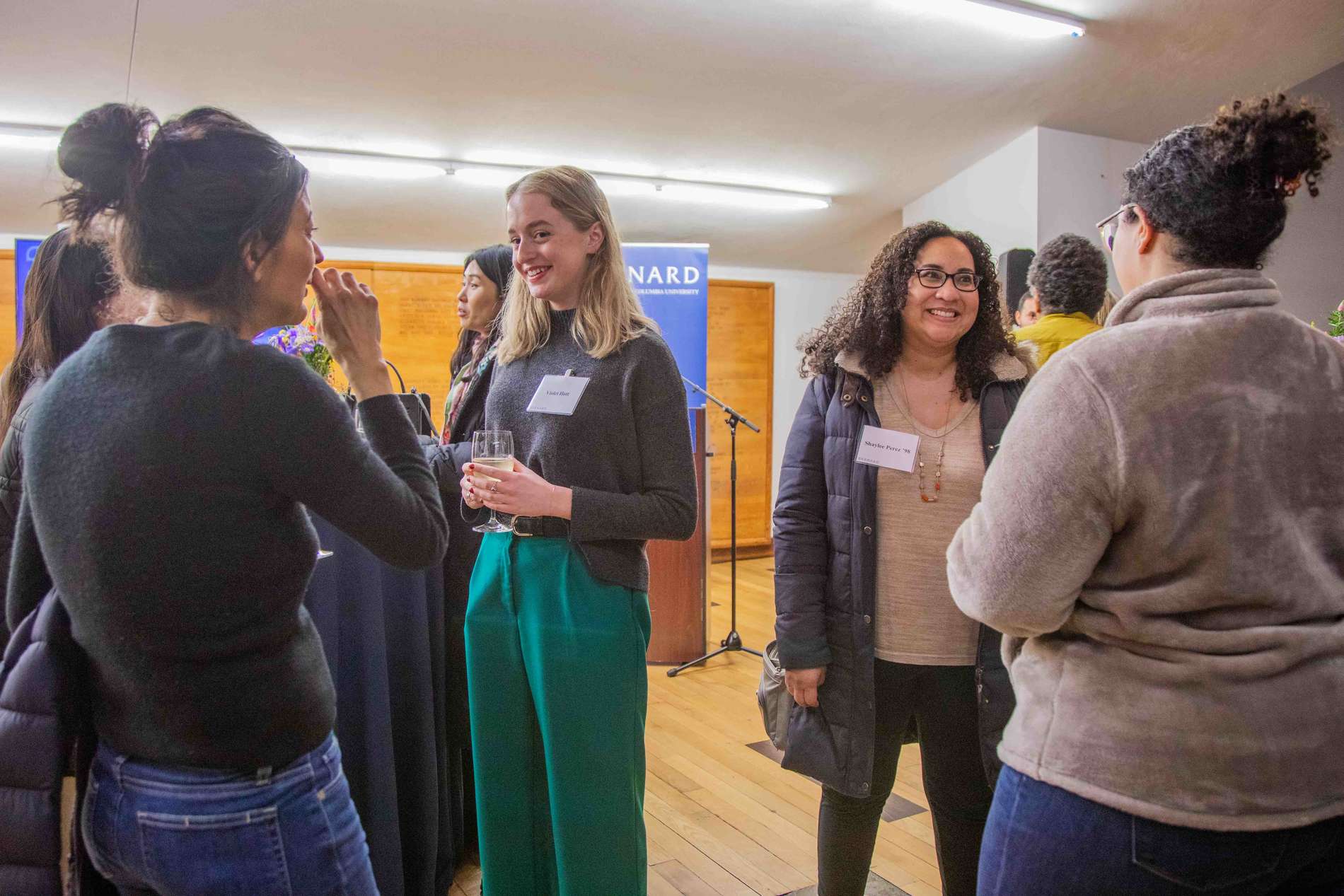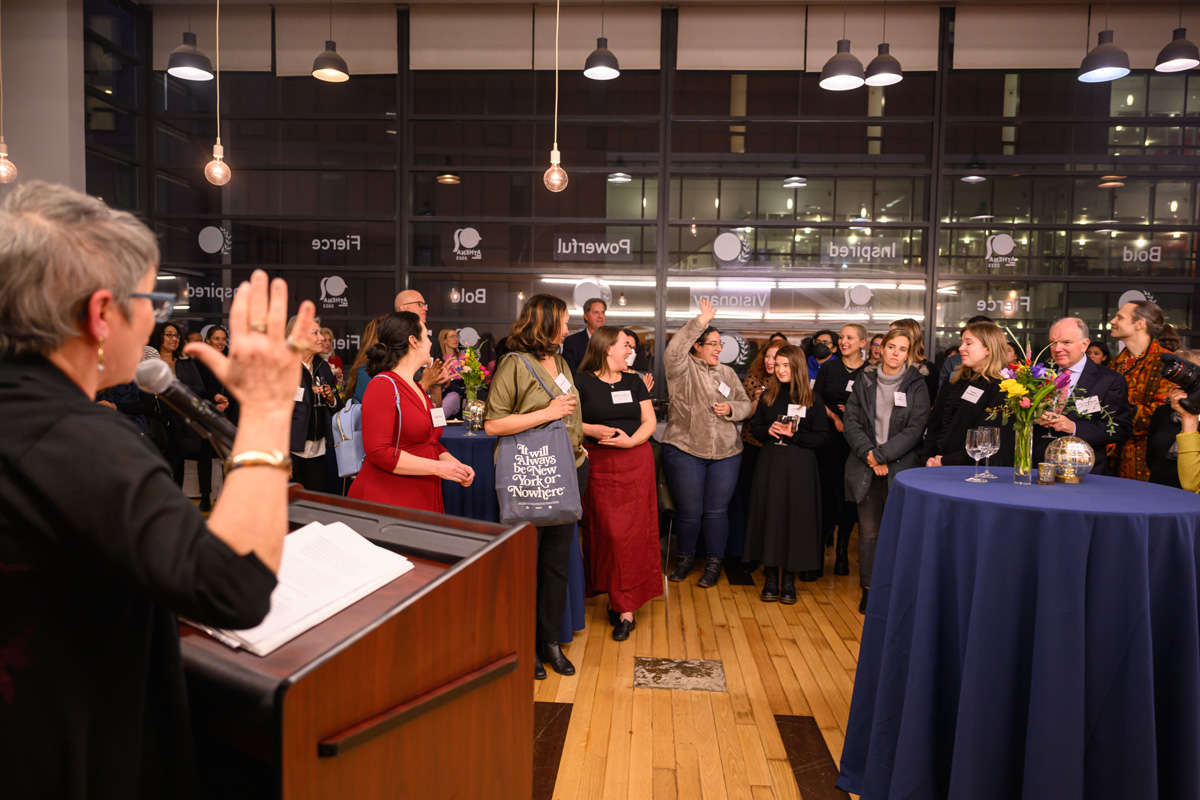 Donors and attendees at the ribbon-cutting ceremony in the new Toddler Center. Photo: Nina Wurtzel
L-R: Richie Jackson, Klein, Jordan Roth. Photo: Nina Wurtzel
Klein, with her Toddler Center team, including student-teachers
Attendees checking out the Center's new sandbox. Photo: Nina Wurtzel
Klein, at the reception in Altschul Atrium. Photo: Nina Wurtzel
 Peter Balsam, professor of psychology and Samuel R. Milbank Chair
Associate professor of psychology Koleen McCrink and students 
A packed house. Photo: Nina Wurtzel
For psychology major Ketaki Uma Krishnan '23, the new Center helps to demonstrate how physical environments and space shape children's learning. "Every aspect feels so well thought out, from the cozy corners built into the walls to the holes at the top of the slide for the toddlers to peek through," said Krishnan.
As a second-year assistant teacher who witnessed the Toddler Center skillfully support families with small children through the COVID-19 pandemic, Krishnan has been inspired to research the impact that the health crisis had on families nationwide. That included studying the blurring of work and home life, inequalities in access to childcare, and the impact of remote schooling. 
"My experience at the Toddler Center as a teacher and researcher has greatly shaped my passion for developmental psychology and my post-Barnard goals of conducting research that informs early childhood development-focused policy and interventions," said Krishnan. 
The Next Stage of Development
Thanks to the Center's successful record among children, students, and parents alike, the next steps in studying childhood development may not be baby steps but big strides. 
For one, the Center is currently being outfitted with video. This will mean expanded research opportunities for the 100-plus students who take developmental psychology courses, which have always used the Center as a lab, and the ability to observe toddlers in real-time while attending a lecture elsewhere on campus. 
Second, Klein and senior associate director Alison Davis P'24 are launching a new program for younger toddlers — who are too young for the separation program — and for their parents, to provide resources to more community members and their children. 
"We know what toddlers need," said Klein. "Now we can really think — in an uncertain world where we live with new levels of disease — about the questions we should be asking, the kind of research that we should be doing, and how we can create these opportunities for the college students. We want to be able to see the toddler world and the science of that [world]."
---
Learn more about the Toddler Center, its research, and the resources available to toddlers and parents within the community. Make donations here. Please select the "other" designation from the drop-down menu and write in the Toddler Center.