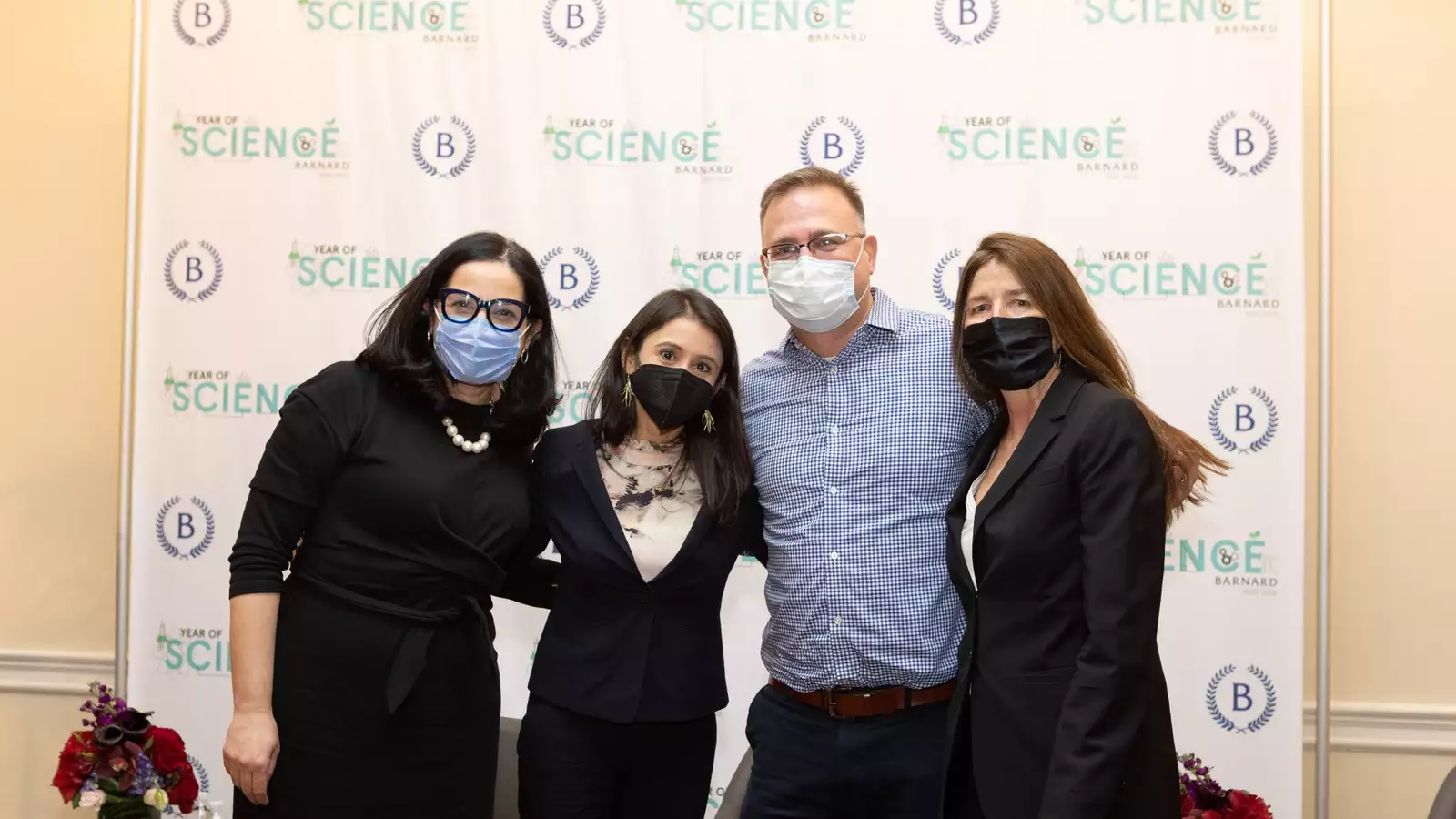 Since March 2020, the world has been trying to safely navigate life through the COVID-19 pandemic. And as measures — both public and personal — are put in place to promote physical health, all too often what is overlooked is the necessity of finding ways to be mentally well. Studies show that some of those who have been most affected psychologically by the pandemic are teens. Just this month, the U.S. surgeon general issued an advisory called "Protecting Youth Mental Health" and said that the pandemic significantly contributed to the challenges faced by the nation's youth. 
In order to explore how the pandemic has impacted teenagers and to offer parents guidance on helping their children manage and thrive in these unsure times, Barnard hosted a panel that brought together key experts on adolescent psychology. The event, a part of the College's Year of Science, looked at young people's ability to remain resilient in the face of compounding academic, personal, and societal stressors. 
"Grey Matter: Parenting and the Science Behind the Teenage Brain" took place virtually and in person on December 14 in the James Room of Barnard Hall. President Sian Leah Beilock provided opening remarks for the event, which was moderated by Dr. Marina Catallozzi, vice president of health & wellness and the College's inaugural chief health officer. It featured panelists BJ Casey, professor of psychology, Yale University (and incoming Barnard professor); Adriana Galván '01, dean of undergraduate education, professor of psychology, and Jeffrey Wenzel Term Chair in Behavioral Neuroscience at the University of California, Los Angeles; and Russell Romeo, Barnard professor of psychology and neuroscience & behavior. It was co-sponsored by Princeton University Press. 
The discussion was one that the College is uniquely positioned to hold, as Barnard has a long-standing focus on adolescent development. "Our experts at Barnard, including psychologists, neuroscientists, and adolescent health specialists, are shaping the scientific literature on late adolescence [ages 18-21] and emerging adulthood [ages 18-29]," said President Beilock, who is a cognitive scientist by training. "Through decades of experience, they have gained valuable insights into the factors that impact teenage mental health and discovered ways that parents and adult role models can help young people develop the resilience needed to cope with the everyday stresses of life."
Barnard's commitment is evident in everything from coursework to the Barnard College Center for Toddler Development, which opened in 1973. This trend continues today, with the Center for the Study of Child Development, an upgraded research center scheduled to open in September 2022 on the ground floor of Milbank Hall, as a new home for the Toddler Center. 
There is also the Francine A. LeFrak Foundation Center for Well-Being, which will open in 2023 in Barnard Hall as a centralized hub for financial, physical, and mental wellness programs, including the College's Feel Well, Do Well @ Barnard initiative. The Francine LeFrak Center will be overseen by "Grey Matter" moderator Dr. Catallozzi. As President Beilock said in her opening remarks, a center for well-being was conceived "before the pandemic with the realization that in order for our students to do well and to be academically excellent, we had to be thinking about how they felt as well. Because you can't operate at a high level in the classroom, or at a high level in everything you do, if you don't feel okay outside the classroom as well." 
"Grey Matter" was intended to share information to help optimize the ability for young people — Barnard students or not — to feel good in all aspects of their lives. "Since the COVID pandemic was announced in March 2020, we've had an unprecedented change in the way we organize ourselves socially and in daily routine," said Catallozzi, adding that for adolescents and young adults, "the stress has impacted their mental health and increased anxiety. It's changed eating patterns, school dynamics, and just the problem of a developing brain."
Casey, who pioneered the use of functional MRI to examine the developing human brain, particularly during adolescence, discussed a recent study that shows some of the specific ways in which the pandemic has impacted teenagers. The study, funded by the National Institutes of Health, followed almost 12,000 youth across the country and looked at brain development. "What we're seeing is increased anxiety, depression, and stress in these youth," said Casey. "Now, there is a silver lining, and it's a silver lining that is a very important message for parents: They're playing a big role in terms of being a buffer."
This means that teens who have positive communication with their parents and families have been reported to do better during the pandemic, according to the study. "When they have conversations with their parents about the activities and structure of the day, or have regular planned meals, [it helps]," said Casey. "So in this pandemic of uncertainty, just a little bit of certainty goes a long way."
One reason behind the recent rise in mental health challenges for teens is the nature of stressors that they are going through during this time. Romeo, whose research interests are in developmental neuroscience with a specific focus on adolescent neurobehavioral development and stress, explained that a person's ability to control their stressors is key to how they respond to stress — the less control over the stressor, the more it impacts mental health. In addition, it helps if stressors can be minimized through social interaction with peers, which have been significantly altered since March 2020. Said Romeo, "Those are at least a couple of things that have made this pandemic much more difficult from a stress perspective on adolescent individuals and young people in general."
The discussion also pivoted to include an unexpected reason why teens may be particularly vulnerable to the stressors of the pandemic: sleep deprivation. "We know that with the additional pressures of adolescence, including academic pressure, social pressure, and social media, there is a sleep epidemic among adolescents," said Galván, whose work focuses on understanding the adolescent brain and behavior with a focus on motivation, learning, and risk taking. "They're not receiving enough sleep," she said. "And just as important as sleep duration is sleep quality, [which declines as people transition into puberty]."
The conversation gave attendees more than an overview — it offered advice on how to support a healthy teenage brain during and after the pandemic. Suggestions included making sure teens are getting consistent physical activity ("​​It elevates mood and can reduce the symptoms of anxiety and depression," said Romeo); encouraging adolescents to do things that energize the reward center in their brains, from spending time with friends to something as simple as making their favorite dessert ("The adolescent brain is primed to be motivated by rewards," said Galván); and finding ways to let teens forge their own paths, even when it's the wrong way ("​​Our brain is learning and adapting to the environment. So it's very important for us to experience successes, but also to retry and sometimes experience failures," said Casey). 
 The entire event can be viewed below: